WHO DAT?! WHO DAT?! WHO DAT SAY DEY GONNA BEAT 'DEM SAINTS?!
45… The answer is 45 opponents across 5 seasons. With a regular season record of 36-44 and a playoff record of 2-1, these New Orleans Saints finished a lackluster and disappointing cycle in the 220 Reloaded with an overall record of 38-45 (.458) and a sub .500 distinction.
While I am obviously unhappy with my performance this cycle, I thought now would be a great time to reflect on the roller coaster that was this cycle: the ups, the downs, my favorite players both drafted and undrafted, and anything else that comes to mind. Season 6 is still in the pipeline, but with most owners likely to consider it as being an asterisk season I think these first 5 seasons encapsulate my performance as the Saints quite accurately.
Season 1          Regular Season: 4-12          Playoffs: N/A
Season one was an absolute dumpster fire for me. The very first game of the season was a close loss I believe (cannot say for sure since Daddyleagues let us down and was not available until season 2). While it was a close loss in score, it was a HUGE loss in the New Orleans locker room. Brandin Cooks out for the season and Mark Ingram out for about 8 weeks. And with that one game, the rest of my season turned into one long ride on the struggle bus. With my two main offensive weapons out, I saw no point in trotting Drew Brees out there because of his age. He was bound to retire soon in the Madden world, so it was time to try to groom his successor. That man?
Johnny Football. His slow development trait made it hard to get him where he needed to be. I liked his speed for this situation since he was going to need to make plays without Cooks and Ingram to feed. He was average at best for me and ended up not being my answer to replace Brees. It is hard to remember much about this season, but with all my offensive firepower on the sideline it is easy to see how I was able to rack up 12 losses. So what was my next step? Look to the draft to grab one of the playmakers at defensive back and field a healthy team in Season 2.
Season 2          Regular Season: 8-8          Playoffs: N/A
Season two went okay. With my players back, I was able to get my feet underneath me offensively. I got a feel for what I truly had to work with, and I was able to make some strides in production. Going 4-2 in in the division, only losing to the Panthers twice, I started to feel pretty good about where I stood within the division. I was optimistic that I could compete. My problem was outside the division as I just could not put a good enough game plan together against opponents I was unfamiliar with. Falling short of the playoffs once again, the offseason goal was a no brainer. Get the Saints their franchise quarterback because Drew Brees is going to retire. Right? RIGHTTTTTT????? Wrong. One more season of this guy coming up.
Knowing that I had Brees around one more year, I decided let's grab a QB later and start replacing these aging senior citizens on my offensive line.
Season 3          Regular Season: 9-7          Playoffs: 2-1 (6 Seed)
My draft steal of the cycle was a big surprise. 3rd Round, Pick 17 QB Zac Holley out of Georgia. I like what I had scouted, but was not expecting him to fall to me. I also was not expecting him to be as good as he was when he came out. The plan was to develop him with QB training while letting Brees give me one last ride. But with Quick development, 92 throw power, 83 short accuracy, 79 medium accuracy, 79 deep accuracy, and 80 speed I just could not let him sit on the bench at age 23. So the Holley era began. Great start to the era as it resulted in my one and only playoff appearance of the cycle. The Holley to Cooks show was really a thing of beauty. Holley made the pro bowl and was runner up for offensive rookie of the year and Brandin Cooks won the NFC WR of the Year award. It was a tremendous time. Lots of this:
Which meant lots of TDs and lots of burnt corners. Holley would go on to have 32 TDs and a 93.2 rating. Unfortunately, he would never come close to these marks again. Cooks had 2,223 yard receiving and 21 TDs. It was quite the combination. Why was this combination so successful? Undrafted free agent speedster Antuan Driver was the new starting running back and he was averaging 6.3 yards per carry that season. It was a play action's wet dream. The league would adjust after this season, but for season three the trio was on a whole other level.
However, after a surprising throttling by the would be 2-14 Ravens in week 15, my playoffs hopes were in jeopardy. I had to win my last two which included a game against the 1 seed 14-2 Tampa Bay Buccaneers. He was in full on spam mode to get Sidbury his rookie of the year, which he did, but it also made it hard for him to come back after falling behind. This resulted in a big W that propelled me into the playoffs as the 6 seed.
This leads me to my proudest few games of the cycle. I started off with a fairly convincing 17 point win over the favored Vikings led by the speedy, versatile RB Darden. The win came as a little bit of a surprise to all those in New Orleans as the Saints could not beat the Vikings at any other point in the cycle. The trio looked great. Holley threw 3 TDs, Cooks caught 1 TD, and Driver ran in 1 TD. The lesser talked about defense held up its end, allowing only 71 rush yards and forcing 5 turnovers.
Then came the heavily hyped Bucs, the 1 seed. Spamming his way to an astronomical amount of xp that even backup offensive linemen received, Big Bums welcomed to the Saints to Tampa for a chance to reach the NFC Championship game. This could be considered "The Tuner Game" as my win sparked outrage about how EA just changed the game's speed and that cost him the game. I still do not understand the argument as everyone on the field moves slower, which normalizes the change for everyone. I was fairly confident heading into this game since he is a division opponent I had gone about .500 against up to this point. The game plan was simple. Keep the ball out of his hands and do not make any mistakes on offense. So run, run, run. Stop Sidbury on defense. On defense the plan half worked. Sidbury was held to 83 yards on 19 carries. Not bad, not great. However, I got torched through the air. Giving up 316 yards and 2 TDs to Andy Dalton was not how I thought this game was going to go. It was all okay, though. The offensive part of the plan worked to perfection allowing me to secure a close 2 point win. Holley was 6 for 11 with 1 TD for 193 yards. How do you win completing 6 passes? By giving the ball to Antuan Driver 23 times for 213 yards and 2 TDs.
I am 6 seed in the NFC championship game against the Rams. Hell yeah I am nervous. What do I do? Stick to the game plan. And I did, too much. I was way too conservative. Holley was 4 for 9, and Driver had 148 yards on 28 carries. The problem was 9 points off of 3 field goals, instead of scoring any touchdowns. I tightened up in the redzone too much and did not go for the throat at any point on 3rd down. It is a shame because I wasted my defense's good performance of holding the high powered Rams to 17 points.
I was very happy with season 3 obviously. I made playoffs and made a ton of noise as a 6 seed. The future was looking bright. Right? RIGHTTTTTT????? Wrong.
Season 4          Regular Season: 8-8          Playoffs: N/A
After starting 3-3, the season was starting to reach a pivotal point. Already having lost to Tampa, if I did not turn it around I was going to be left in a cloud of dust. Then Holley went down for 5 weeks. Could I overcome with backup Johnathan Dillon? Honest answer? I guess not. 0-5 was the result, ending my season at 3-8. Pride took over, though, and I could not tank it out to get a good draft pick. Instead Holley came back and lead the Saints 5-0 down the stretch to go .500 on the season. To me this season is the "what could have been" season. With 3 of the 5 losses by one possession, I just cannot help but think what if I could have stolen 2 of those games if Holley was healthy. Do I make a run? I can't say for sure, but if I am being honest probably not. The league had figured out to protect against Cooks, regardless of whether or not Driver was tearing it up on the ground. The highlight of this season was the emergence of powerhouse defensive tackle Sheldon Rankins. The man ate with 21 sacks on the season and really did his best to keep us in every game. Cheers to you Sheldon!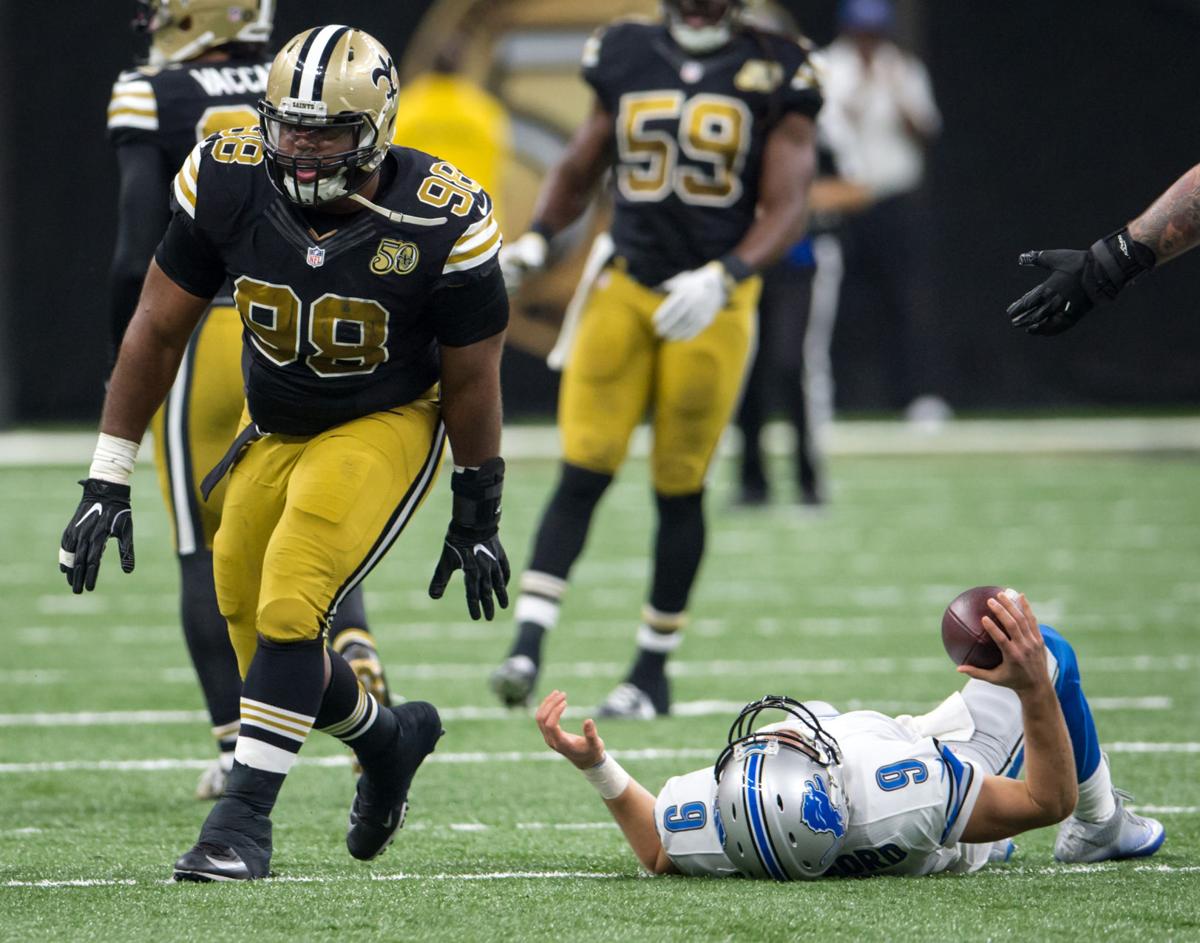 Season 5          Regular Season: 7-9          Playoffs: N/A
Frustrating. The offseason was so frustrating. I'll be honest. I wanted to move up and grab the 21 year old, 6'7 tight end Ronnell Shorts (or at least that is what I think is name was because now it is OJ Howard, which is dumb). Why is this frustrating? I could have tanked like various others and went 3-13 and got him. But my integrity would not let me do that. Sucks, but it is what it is. Instead, I had to sit back and watch the Bucs trade guys who had glitched xp since they were backup offensive linemen and move up to get him AND a nasty corner. The fact people were handing the back to back number 1 seed opportunities at the young elite talent was ridiculous. Yes, he had been one and done at least the last 3 seasons, but he was still murdering people in the regular season. It was frustrating as his division foe. I was not high enough of a pick to get a top corner, which was a need as my secondary was aging. So I made a move to fill what I felt was my other need: a high end tight end. Fleener was aging, slowing, and to be completely honest, was just dropping too many balls. So I made a deal with the Redskins to bring in this man: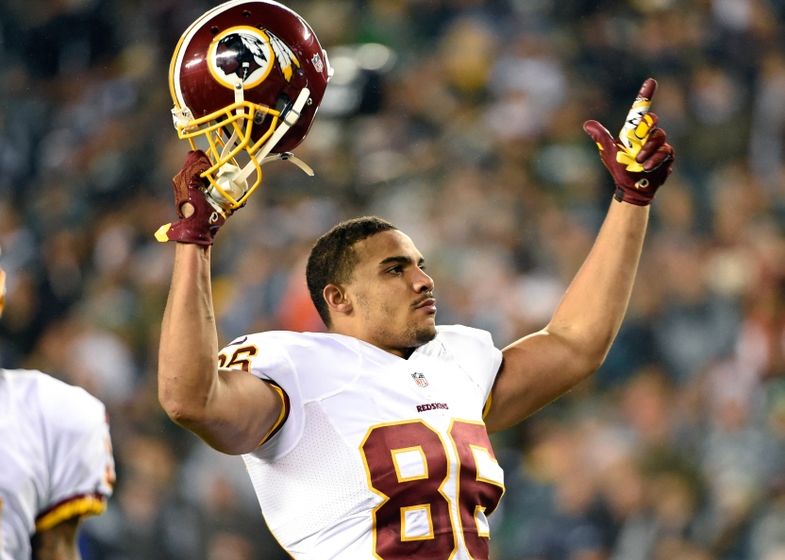 Jordan Reed. The jury is still out if it was a good move as he missed the last 5 games of the season with an injury. I would say he was productive, though, when he was on the field. He definitely took more eyes from defenders than Fleener did. I felt he dropped less and was more athletic in the open field. But to say that he was a success is a bit much. I really needed him for all 16 games. With him in the middle, and Cooks and new Cooks clone Bennett Sampy on the outside, I thought I had something explosive. It was just not to be. Sampy also went down for 8 weeks in the middle of the season. Injuries were not to blame for this poor season, though. Starting 1-4 was too big of a hole for me to emerge from unfortunately. Out of my 7 wins, only 2 of them were by more than one possession and even one of those was a week 17 sim since we were both out of playoff contention. I was getting torched on the ground, through the air, every which way possible. I threw more interceptions than ever up to this point and in general just let down the city of New Orleans. It was a poor season, and I am not proud of it. I could not adjust what I needed to and my play suffered as a result. I really wanted to make an impact this season as it is likely the last season of the cycle people will talk about with legitimacy. Season 6 will be fun, but the last season of every cycle is always talked about with the dreaded asterisk. I would love to say there is some highlight here in Season 5, but the only thing of note was a really awesome overtime game with Rhude and his Falcons that was one of the closer and more entertaining games I have ever played.
What Would I Do Differently?
As you can tell reading this, season 3 is really the only season I look at positively. Others had some building blocks (Season 2), but the rest was more full of blunder and heartache than anything else. So what would I do different if I had to start this cycle over as the Saints?
I think I had two big deficiencies in my roster construction and development. On offense, I waited too long to address my offensive line. Minus LT Terron Armstead, everyone was either bad or very old. I should have started the overhaul season 1 and started OL training early on. Starting at the beginning of season 3 was probably a bit too late. I mean my offensive line is great now with the only weak link maybe being my left guard. But otherwise, they are pretty freaking good. Maybe season 4 Holley doesn't die for 5 weeks if the offensive line is progressed a bit better. Maybe I get a couple more 1st downs in the NFC championship game in season 3. It is the little things that could have helped make a big difference. Instead I spent too much training on my wide receivers. I think for the most part everyone can agree that it was kind of a waste. The receivers in the game do not play that much different from each other above a certain threshold, and god dammit do they drop everything when you need them catch it. On defense, I should have spent more resources on LB and CB. My plan was to develop a beast defensive line and I did. They should be able to stop the run and get pressure allowing my less talented back end to cover adequately. This worked sometimes (see Sheldon Rankins and his 21 sacks season 4), but corners were just not good enough. There reached a point when everyone's offensive line was pretty solid, so even though my defensive line was beast they would not win all the time. So I started getting punished through the air. Besides my 1st draft pick of the cycle Stanley Wesley, the rest of my corners were average at best and started aging out rather quickly. When then majority of the league builds their offense around speed, aging and average is not the secondary you want. Same with my linebackers. I should have grabbed some good fast linebackers that could keep up with the speedy RBs in the league and take them down.
I also would probably take the time to make my own playbook on offense and defense. I never like to do it, but I feel like most people that do it have a positive experience. I could probably assemble something better to meet my play style than the typical base playbooks.
What Would I Do the Same?
Despite what I said above, I am very proud of my defensive line. While I would need to take away resources there to better my secondary as mentioned above, I would still like to develop a sack and run stuffing machine like Rankins became. QB Holley was an absolute steal and was my proudest draft moment. While I may not have performed with him as I would have liked in Season 4 and 5, I really think I brought him along perfectly. I did not suffer any seasons of a post-Brees QB search, so I thought I handled it very well. I also would develop another elite fullback. FB Braxton Randle reaped the benefits of my offensive style by making 2 pro bowls under the age of 25 and obtaining 90+ run block and impact block. He was a monster to run behind.
What's Next?
It was a fun cycle. Being the Saints, I had no attachment to any of the players so I had no problem blowing up anything I felt necessary. Overall though, I am pretty disappointed in my performance. After making the playoffs consistently last cycle, it was frustrating to basically be sitting at .500 this whole cycle. The NFC South reunion was decent until Bucs went ghost after folding in his first playoff game at least three straight seasons. But again the scheduling was cake and low stress as always. That is always the biggest plus with those 3 dudes. Next cycle I hope to take my talents back to Dallas and my favorite team, the Cowboys, to make some noise like I used to.
And with that said, it has been a pleasure everybody, and I look forward to playing you all again next cycle!
– Blakeness